Cell Phone Ticket in NY
Did You Get a Ticket for Using Phone While Driving in New York? Let Us Help!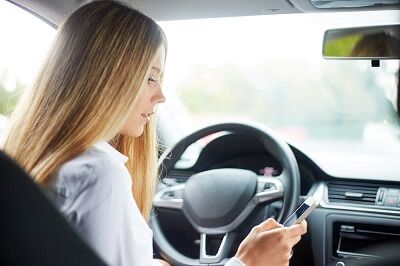 The cost of a single cell phone ticket charge in New York can rise rapidly. This is because of the initial fine, the surcharges, and insurance increases.
There are several reasons why hiring our lawyer to fight a cell phone ticket may be beneficial for your case:
Legal expertise: Our firm specializes in traffic law and cell phone violations will have the legal knowledge and expertise necessary to challenge the ticket in court. We can evaluate the evidence against you, assess the strength of the case, and determine the best defense strategy to use.

Reduced penalties: Our legal team may be able to negotiate with the prosecutor to reduce the penalties associated with the ticket, such as fines and points on your driving record. This can potentially save you money in the long run, as well as help protect your driving privileges.

Higher chance of success: We are experienced in fighting cell phone tickets will know the best arguments and strategies to use to challenge the ticket. We will also have a better understanding of the court system and the legal process, which can improve your chances of success.

Time and convenience: Fighting a cell phone ticket can be a time-consuming process, particularly if you are unfamiliar with the legal system. By hiring our lawyer, you can save time and effort, as they will handle all aspects of the case on your behalf, including court appearances and paperwork.

Protecting your driving record: Accumulating points on your driving record can lead to increased insurance premiums and potential license suspension. We can help protect your driving record by challenging the ticket or negotiating reduced penalties.
It is critical at this juncture to consult with our attorney, as we have experience reducing the charges. For example, we can reduce a standard texting ticket to a "non-moving" violation which can reduce the impact on your driving record and insurance rates.
Tips for Fighting Cell Phone Tickets
Other tips for fighting a cell phone ticket in NY include:
Use a dash cam, as it can prove your vehicle was halted at the point of violation.
Provide proof you weren't on your phone at the point of violation; this can be done via phone records.
Attempt to recover security camera footage that shows your vehicle was stopped.
Have you received a ticket for using your cell phone while driving? Our traffic violations attorney is ready to defend you. Call Robert Sinesi Law Firm today at (315) 514-3033 or contact us online to get started!
New York Cell Phone Ticket FAQs
---
Is It Legal to Talk on a Cell Phone While Driving?
What is Considered Illegal Cell Phone Usage While Driving in New York?
The law spells out the following as illegal cell phone usage:
Talking
Accessing or browsing the Web
Looking at, taking, or sending photos
Playing internet games
Composing, sending, receiving, or retrieving email or text messages
How Many Points is a Cell Phone Ticket in NY?
In New York, cell phone tickets will result in 5-points being added to your driving record. If you get 11 points within an 18-month period, your license will be suspended. In addition to the points, you will also have to pay a fine of $50-$200 for the first offense. If you are caught using your cell phone in a school zone, the fine increases. If you cause a traffic accident while using your cell phone, you could be facing serious charges, including jail time.
How Much Does a Cell Phone Ticket Cost?
The financial penalties for a New York cell phone ticket include:
A fine of $50 to $200 for a first or second offense
A fine of $50 to $450 for a third or subsequent offense within 18 months
What Are the Exceptions to New York's Cell Phone Law?
There are a few exceptions to New York's cell phone law.
While hands-free cell phone usage is permitted, you may only use a hand-held cell phone in the case of an emergency call to:
Police
An emergency responder
A hospital or medical office
A fire department
Once you engage our firm for representation, we can usually appear in court for you with a strong defense in pursuit of a favorable outcome. Due to time limits regarding your ticket, we urge you to contact us immediately so that we can get to work on handling all necessary steps of the defense procedure.
Contact Our Skilled New York Cell Phone Ticket Lawyer Today
If you have been cited for driving while talking or texting on a cell phone, you can fight your ticket with experienced help from the Syracuse cell phone ticket lawyer at Robert Sinesi Law Firm.
Our firm has been representing drivers of both private and commercial vehicles in New York traffic courts for 25 years. We have helped more than 15,000 clients throughout the state and Canada.
With our vast experience, you stand a fighting chance of obtaining a favorable result in:
Reduced fines
And preserving your DMV record
In light of the expensive auto insurance, which we all must pay, our work can lead to significant savings. We recommend that you contact us as soon as possible after receiving a ticket to avoid missing important response deadlines.
Need help fighting a cell phone ticket in NY? Contact Robert Sinesi Law Firm today for a FREE consultation!

Why Robert Sinesi Law Firm?
We are committed to our clients and focused on results.
Handling Cases Throughout New York

We help clients everywhere in New York outside of the five boroughs.

Helped Thousands of Canadian Drivers

We frequently work with Canadian drivers to help them navigate their case in New York courts.

Over Two Decades of Experience

Robert Sinesi has over 25 years of experience handling traffic ticket and DWI cases.

Serving Mandarin-Speaking Clients

Our firm has helped many Chinese clients with their traffic ticket concerns.